Explore the NGO
Simulation game – Explore the NGO is about creating your own non-governmental organization (foundation or association) on paper. Groups of five have to create status of the organization, the registration request, to choose a name and set up main objectives. Than they have to write a project for local community and present it in front of competition committee.

Inside

20

3-5 days
Target group
Teenagers (cca. 13 – 18 years)
Young adults (cca. 17 – 26 years)
NEETs
Youth with fewer opportunities
Youth workers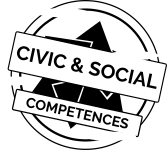 Content
Participants learn how to create their own organization especially: the registration formalities – documents and place of registration. Participants learn how to create statutes of the organization, draft its objectives and how achieve them. By study their local community problems and needs learn how to response for them by creating a project. Ideas of the projects will be presented in front of the competition committee. Participants also learn the basics of public presentation and methodology of project development. Participants need to plan their work effectively and collaborate with each other to achieve all goals.
Materials
Paper, computer, registration request
Specific Environment
School class, other space, computer room
Specific goals
Raising the level of skills that are useful/helpful for youth to their social involvement/participation ( such as self-confidence, leadership, …); Motivation, support and encouraging young people to engage into initiatives groups, Non-Governmental organizations, volunteering, youth councils and other bodies to act socially for the local communities; Advise young people how to identify, diagnose or just name challenges and problems of their social environment; Advise young people how to put their entrepreneurial ideas into social practice (e.g. presentation of project methodology, strategical planning, etc.); basics of law
Description
1. Preparation
meeting participants and creating groups of work
explanation of the purpose
gathering materials
2. Realization
meeting with experts: lawyer, economist, sociologist
creating the basics of organizations (working area, main goals, name of organization, target groups, etc.)
writing a draft of statute and registration request
discussion about local problems and needs -> choosing area of local project -> preparation of project proposal and presentation
official presentation of the project and final assessment by the commission
3. Reflexion
what problems have arisen, who made decisions in a group, what was missing, what was the most difficult, etc.
Outcomes and its measurability
Results of work:
five drafts of statutes of organizations
identification of local problems and creating five project proposals
giving the official presentation of project proposals
Validation tool – satisfaction survey and knowledge test about NGO sector
Project in which the method has been used
Contact person + e-mail
Katarzyna Karkocha-Bartoszewicz
The method was used during the project "Explore the NGO" in which group of 20 pupils (at the age of 17) from Poland created 5 fictitious non-governmental organizations.