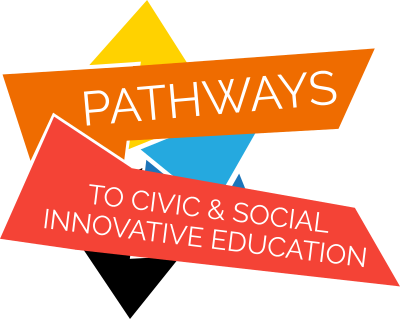 About the website and the project
We called this website Pathways, because it should help you on your way to meaningful and innovative education, especially of young people. Its key feature is the database of educational methods and activities for the development of Civic and Social Competences. We found them as good and useful examples during our project focused on this area. You can browse them by all kinds of categories, such as thematic focus, age group, number of participants, time needed, etc. Just use the Method icon above or the Search in the upper right corner.
Moreover, you can find other useful tools for your work with children, young people and other target groups here. Just take a look at our Pathways publication via the Book icon, and the Activity Development Canvas, which can help you with creating cool and meaningful activities and methods for educational as well as other uses, is easily accessible using the Canvas icon.
This website was created in our project Cooperation for Social and Civic Competences' Innovative Education with support of the Erasmus+ Programme of the European Union.
The idea of the project, which we familiarly call Pathway to Competences, was born out of the need to improve the methods of educational youth work in order to engage young people in local community activities, active civic and democratic participation such as volunteering, membership in NGO, youth councils as well as using the internet as a way to civic involvement. To achieve that the partnership seeks to provide youth educators with knowledge, methodology and attitudes to make their work in the described area more efficient. Precisely due to the efficiency of the project, we plan to involve young people as experts in solving problems that affect them and their peers.
Partnership organizations: The Umbrella Foundation (Wroclaw, Poland), The Lithuanian Youth Center (Vilnius, Lithuania), Czech Council of Children and Youth (Prague, Czech Republic)
Pathways Crew
Project Coordinators

Beata Partyka (PL)

Rima Aleknavičiūtė-Stasiulė (LT)

Marek Krajči (CZ)
Project Participants

Mantas Daniel Blaževičius
Gintarė Dobilaitė
Michaela Doležalová
Dovilė Dudėnaitė

Anna Dworak
Justyna Dziemianowicz
Tomaš Fogl
Ewelina Garczarczyk

Jan Husák

Jakub Jasiński
Dominik Jeřábek

Monika Kabata

Natalia Kacperska
Sára Kostrhonová

Dominyka Kozlovska
Martin Kučaba

Bastian Küntzel
Maciej Miklaszewski
Agata Nassim

Alexandr Nikitin
Olha Petko

Ieva Rimšaitė
Agnė Skyriūtė
Leonas Stankevičius
Veronika Stříbrná
Gailė Surkevičiūtė
Artūras Svarauskas

Stanislav Štěpáník
Michal Švarný
Gabrielė Vainaitė
Michal Vyvlečka
Paula Wiśniewska
Karolina Zając
Orinta Znojevaitė

Viktorija Znojevaitė