Help
This website is about educational methods and activities. You can easily find them using Search or the Methods icon. They are presented in an easy-to-understand way, but if you feel unsure about anything, here you will find the explanation.
Let's start with explaining the icons:

Environment, where the activity can take place (inside, outside…)

Ideal number of participants, for which the activity is intended

Time duration – how much time you should reserve for the activity
Target groups:
Target groups of the activity differentiated by age or thematic focus or special needs: Children (ca. 3 – 8 years), Older Kids (ca. 6 – 12 years), Teenagers (ca. 13 – 18 years), Young adults (ca. 17 – 26 years), NEETs, Youth with fewer opportunities, Youth Workers, Teachers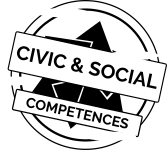 This big icon shows us the competences, which are developed by the activity: civic, social or both
Content:
What is this activity about? What new is being educated? Which skills and competences are developed? What knowledge do the participants acquire?
Materials:
Materials, tools and equipment needed for running the activity
Specific environment:
Does the activity require a special environment?
Goals and Aims:
Which specific educational goals does the activity have?
Description:
The whole process of the activity is described step by step as it is happening, including preparation, realization and reflection.
Outcomes:
What are the outcomes and how are they measured? Is there any validation tool used; if yes, which one?
Project in which has been the method used:
If the activity was originally used in another project, you will find its details here.
Title: Name of the project, where the activity was used
Web: Link to the project's website
Contact person: Name of the person responsible for the activity or project